2013 has been a fairly unique year for me. I've always been someone who's experimented and played with technology but I've probably had my hands on more smartphones this year than I ever did in the past and have been fortunate enough to enjoy playing with lots of goodies.
I've resolved myself that I won't be trying out any more smartphones this year but have decided to summarize my year with smartphones in this blog post.
Just to put things in context, I normally have got two phones with me at any given point of time as I've got two SIM cards when in Dubai and occasionally carry a third phone when traveling with a local SIM.
Now to get on with the review...
Background:
I was using this phone last year and continued to use it during much of 2013.
Pros:
Syncs to iTunes where I have most of my podcasts and music

iPhone 4S.
Image: technobuffalo.com

Works best with most Apps that I use on a regular basis (I also have a Nike FuelBand which syncs with Apple iPhone's at the moment).
Cons:
Sluggish. With the iOS 7 upgrade that happened in the last quarter of this year, the iPhone 4S did start to feel sluggish.
Camera. The camera also wasn't as good as many of the newer entrants that appeared in the smartphone space in 2013
The smaller screen size became a more apparent disadvantage once I got used to bigger screens on the other devices I was using through the year.
Bottomline: To summarize it, the iPhone 4S was just efficient. It did most of what I wanted fairly well.
2. Samsung Galaxy Note II
Background:
I was using this phone as well towards the end of 2012 so continued using this when the year started.
Pros:
The bigger screen on this device made for a big change but when you're working on e-mails, the extra real estate on the screen is much appreciated.
Battery. The Galaxy Note II comes with a huge battery and if you've got a day on the road, the Galaxy Note II is the device to carry with you. I've been frustrated with the fact that I've had to carry a charger or power bank around when using most other devices during the year.
Cons:
Plasticy Finish. As nice as the Galaxy Note II is, the plasticy finish doesn't give this phone the premium feel it should have given the price you pay for it.
Weight. The Galaxy Note II is a heavy smartphone to carry around and after I bought the iPad Mini earlier in the year, I realized the two devices more or less weighed the same so I opted to carry an iPad Mini when I needed to get serious work done on the road.
Size. As much as I enjoyed the bigger screen, it became awkward to carry a large smartphone everywhere as it doesn't naturally fit in most pockets and given the fact that I had two phones with me at most times, it became a drag, especially on weekends where you're trying to fit both phones in your jeans pockets.
Two hands on deck. It was difficult to use this phone with only one hand because of the size and weight of the device. Even though it had a one-handed mode, it wasn't always practical.
Bottomline: A great device if battery life is a priority for you.
Background: Having used a BlackBerry for several years, I had finally given up on using a BlackBerry in the last quarter of 2012. In early 2013 though when the BlackBerry Z10 was released, I did give it another chance.
Pros:
Good build quality and feel
Extremely quick (especially when compared to the previous generation of BlackBerry devices)
Data packages. The most cost effective roaming data packages as compared to other platforms

The little engine that could. BlackBerry Z10.

One hand use. You could comfortably grip this phone in one hand and complete most tasks.
Cons:
The App ecosystem is the biggest let down. The fact that you had to wait weeks, if not months for many popular Apps to become available on BlackBerry OS 10 and when they did, they weren't of the best quality. It just made you realize why wait for Apps to reach this platform when you can adopt another platform that has all the Apps available on day one.
Bottomline: This was essentially BlackBerry's best attempt at a comeback and sadly it fell short. It was the revolution that we anticipated and given the advances that iOS, Android and even Windows 8 devices were making in 2013, BlackBerry OS 10 just didn't feel like it would get mass support from the App developer community.
Background: I was fortunate to be able to get my hands on a pre-release unit and experience HTC's revolutionary step forward.
Pros:
Fantastic build quality. The metal body meant this phone had the best feel and look out of any phone I used during the year.
Camera. The ultra-pixel camera technology that HTC brought to the table with this smartphone meant that it delivered some stunning results in low light or indoor scenarios.
Sound. The Beats Audio experience coupled with the two speakers on the front of the phone meant that the HTC One had the best audio output of any smartphone this year.
LTE connectivity. This was the first LTE smartphone I had used and I'm addicted to the speed that LTE offers.
Snappy. A more powerful processor and an improved version of HTC Sense meant that the phone was very quick.
Cons:
BlinkFeed. This was HTC's attempt to aggregate your social feeds and news in one screen. While it was a good attempt, I ended up installing Facebook Home and found that to be a lot more intuitive. It certainly made me start using Facebook more.
No memory card slot means you can't expand memory.
Bottomline: An excellent device. One of my favourites for the year.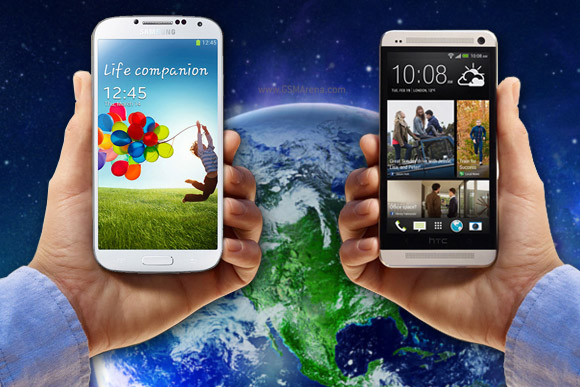 Galaxy S4 vs. HTC One.
Image: gsmarena.com
Background: I went from using an HTC One to using a Galaxy S4. These are probably the two best smartphones that emerged on Android this year.
Pros:
Quick. There is no doubt about it, the Galaxy S4 was the quickest phone I've used this year. Regular Android updates also meant that several improvements that Google made to the operating system were apparent on this device.
Lightweight. The Galaxy S4 isn't a burden to carry around. The smartphone was one of the slimmer devices I used during the year and after using several heavy devices during the course of the year, I appreciated carrying this phone with me, especially on the weekends.
Display. Watching videos on this screen is a pleasure.
Samsung Apps. This may seem like a bit of a joke to many but I've found Apps like S-Health to be useful. S-Health keeps track of my footsteps during the day and at least gave me some indication of my activity levels.
Cons:
Build Quality. The phone feels extremely plasticy and after migrating to this from the HTC One, it just doesn't feel as rich when in your hands.
Battery Life. Even though Samsung have packed a huge battery into this phone, I've found myself having to charge this phone a few times during the day. This may have been partly because I've found myself using this as my primary device but I still feel the battery life needs to improve.
Bottomline: Everything just works well on the Galaxy S4. I found it extremely efficient and I hope to finish out the year using this as my primary device.
Background: Lenovo is a relatively new entrant to the smartphone business. I had the chance to use their phablet device during this year. This was also Intel's first major foray into smartphones so it took a little getting used to hearing the Intel tone whenever I switched on the phone.
Pros:
This phone was much like the Samsung Galaxy Note II. The bigger real estate was welcome and additional battery life was welcome.
Great value for money as this has been priced a few hundred Dirhams cheaper than comparable phablet devices.
Lenovo K900 vs. Galaxy Note II.
Image: slashgear.com
Cons:
This is a big phone. It was even bigger than the Galaxy Note II and this made it difficult to use as it didn't necessarily fit in my pockets.
No LTE. The Intel chipset unfortunately had a limitation in that it couldn't work on LTE and when you've got a bigger phone like this where you're tempted to watch videos, you enjoy it even more with a faster connectivity.
Bottomline: This is a good entry into the smartphone business by Lenovo. I expect them to only get better from here and it is encouraging to see Lenovo move in the right direction.
Background: I had the opportunity to use the Note 3 when it was released during the fourth quarter. I didn't however test this with the Galaxy Gear smartwatch that Samsung released alongside this phablet.
Pros:
Lighter and slimmer than the Galaxy Note II. While I found the Note II a drag to carry around, the Note 3 was a pleasure to hold.
Large screen size. Samsung have pushed their engineering team to try to minimize the bezel on the side and increase the display area on the screen. This has been achieved when compared to the Note II.
The artificial leather on the back of the phone made it feel less plasticy than the Galaxy Note II.
Awesome battery life. The Galaxy Note 3 continues where the Galaxy Note II left off and was excellent if you're out on the road quite a lot. Also as compared to the Galaxy S4, it has much of the same functionality but with better battery life.
Cons:
Screen lag. While the Galaxy Note 3 felt much faster overall, I did find some screen lag, especially when opening the browser from another App such as Twitter or Gmail. I expect this is a software related issue and will be resolved in a future software update.
Bottomline: This is a natural upgrade for anyone using a Galaxy Note II. For those hardcore BlackBerry users, this is the probably the best phablet to move to if you want a device that let allows you to remain productive.
Background: This was the first time I was using a Huawei device so I wanted to see just where the company was as far as the overall Android experience went.
Pros:
Extremely lightweight and slim. This was the sleekest phone I used all year.
Android Skin. Huawei have done away with the menu button to open up all your Apps and set up their Android skin so that you can swipe from the home screen to see all your Apps. The overall appearance on your eyes of this skin is also fairly appealing as they've used more soothing colour schemes.

Huawei Ascend P6. Image: pcpro.co.uk

Fantastic value for money given the price you for the specs, size and weight of the device.
Cons:
Battery life. For what you get in size and weight, you lose out relatively in battery life. It is a ready compromise you have to make it.
Bottomline: Huawei much like Lenovo seem to be making a step in the right direction. You can anticipate both brands to be challengers to stalwarts like Samsung or HTC in the long term. If you're not a heavy smartphone user, this may be the device for you.
Background: This was Nokia's first 41 megapixel Windows powered phone after they introduced the PureView 808 last year on Symbian.
Pros:
Unbelievable camera. There isn't going to be another phone you find this year that comes with a camera that is anywhere near comparable to the Lumia 1020. The quality of pictures you achieve and the advanced editing capabilities set this phone apart from the rest of the competition.
Dedicated camera shutter button. Whether the screen is locked or not, you can take advantage of this button to take pictures almost immediately.
Fantastic build quality. Nokia have never compromised here and this phone feels fantastic to hold.
Nokia Music (now renamed MixMusic). Nokia's music App is great and the ability to download mixes onto your phone for offline play for free is fantastic value.
Nokia Lumia 1020.
Image: cnet.com
Cons:
Lack of Google support. I use Google Apps fairly extensively and apart from native Android Apps, I've found it a bit difficult to get a satisfactory experience on most other operating systems but this seems particularly more challenging on the Windows Phone 8 operating system that Nokia uses.
The Bump. In order to accommodate the 41 megapixel sensor, there is a small bump on the back of the phone. This can be a bit awkward as I found either the phone sliding off a table or whatever I'd kept on top of the phone to slip off. It takes getting used to.
Apps. Windows Phone 8 recently got Instagram and this was what I missed when I was taking all those awesome pictures. Much like my experience BlackBerry, I found myself missing Apps or finding that the App experience was compromised. I would've struggled if I didn't have a second smartphone with me.
Bottomline: This is the best device if you're on holidays, have young kids or take a lot of pictures. I would replace my DSLR camera with this and carry it with me without a SIM card even.
Background: When the iPhone 5s was officially released in the UAE, I bought myself a 64GB iPhone 5s (not gold).
Pros:
TouchID. It works extremely well and I'm able to move from lock screen mode within a second or two by placing my choice of finger or thumb print over the finger print sensor. It generally works quite well.
Fast. The new 64 bit processor coupled together with iOS 7 works extremely well. The lag I felt with the iPhone 4S seems like a distant memory.
Camera. This has got one of the better cameras I've used this year. If you want a phone that has a camera that anyone can use, this is probably the one to look at.
Cons:
No Memory Card support. The fact that you're paying a little more than a USD 100 to move from a 16GB to a 32GB model or more than that to move to a 64GB model seems unjustified at a time when you can buy a 64GB memory card for most other devices for about USD 35.
Inability to tinker. When you've played with Android you enjoy the flexibility it provides you and Apple has always restricted the OS to do just what Apple wants you to do and that's it.
Screen size. Even though the iPhone 5s has a bigger screen than an iPhone 4S, you wish it would be closer to size of what you find on devices like the Samsung Galaxy S4 or HTC One.
Bottomline: Everything just works seamlessly.
As the year starts to come to a close in a few weeks, I've decided not to try any more phones this year. I'm closing the last few weeks of the year using a Samsung Galaxy S4 as my primary device and an iPhone 5s as my secondary device. The pace at which I've changed phones this year has been unprecedented but the ease at which I've been able to change also shows just how intense competition has become.
A few years ago, you had many people glued to BlackBerry or Apple devices because it wasn't easy to migrate but with the advent of Android, guaranteeing loyalty to an ecosystem has become that much more difficult.
Posted by: Ashish Panjabi, Chief Operating Officer,

Jacky's Electronics LLC